Louis Jacques SARTORIUS (1820-1892)
My great, great, great grandfather, Louis Jacques SARTORIUS, was born and baptised on 22 June 1820 in Lemberg, Moselle, France. He was the son of Francois Sartorius (born about 1784, place of birth and date and place of birth unknown) and Marianne Wagner from Munzthal. It is believed that Francois married Marianne prior to 1811. From Louis' birth certificate, we know that Francois was Regent de la Ecole St Louis les Biches, Lemberg in 1822. These are the birth and baptismal records for Louis Jacques Sartorius, dated 1822.
Louis was a glassblower. On 18 December 1845, he married Marianne Humprecht (1827-1892) who was born on 15 July 1827 in Willer-sur-Thur, Haut-Rhin, France. On his marriage certificate, his profession is given as Ouvrier a la Cristallerie Lyonnaise. This is their marriage certificate: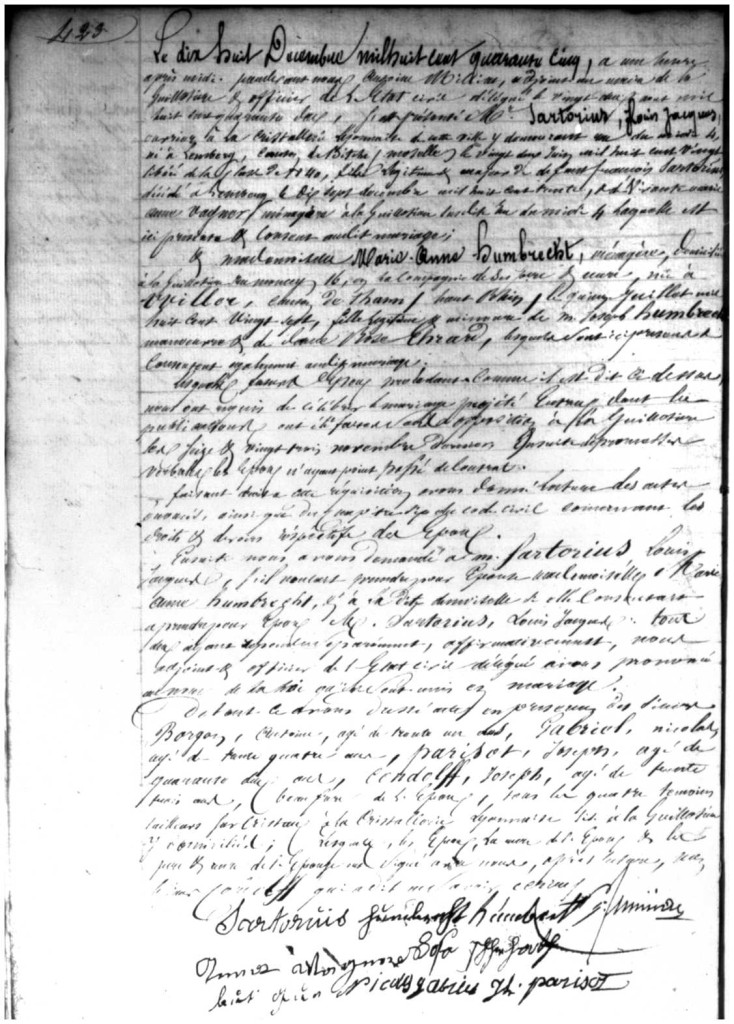 A few years after his marriage, he left France for England, arriving in Folkestone with his wife and young son, Louis. His son was born in the (old) 5th arrondissement of Paris on 17 May 1848, which means he would have been 5 months old when he sailed for England with his parents. This is his arrival record: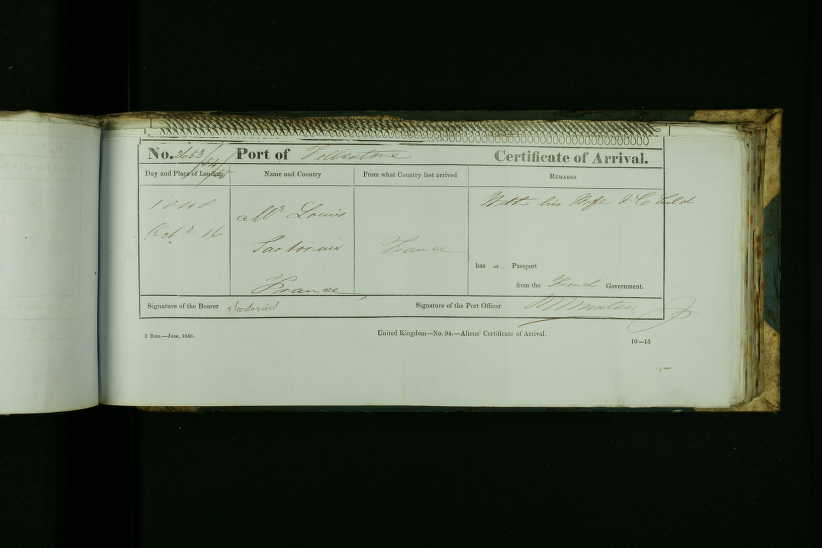 click to enlarge
Louis and Marianne made their way to Birmingham, the industrial heartland of the country. They are first listed in the British census of 1861. They are living at 21 Godwin Street/4 with their six children, all of whom were born in Birmingham. Their first-born son, Louis, who travelled with them on the boat to England, appears to have died, possibly shortly after arrival in 1850.
Louis died on 13 December 1892, aged 72 years old, of catarrhal pneumonia, (which he had been suffering from for six months according to his death certificate). He died at 123 Cato Street in Birmingham. The death certificate lists his daughter-in-law, Jane Sartorius (his son Joseph's second wife), as present at the death. He was buried in St Joseph's cemetery, Nechells, Birmingham four days after he died, on 18 December 1892. The grave no longer survives.
Louis and Marianne were both Roman Catholics and had 11 children (in order of birth):
————————————————–
1 M:    Louis SARTORIUS
Birth:  17 May 1848 Paris 5e (ancient)
————————————————–
2 F:      Julie Antonine SARTORIUS
Birth:  25 Oct 1849  Birmingham
Death: 2 Feb 1922  Noisy-le-Sec, Seine-Saint-Denis, France
Spouse:           Gustave PERRIN
————————————————–
3 F:      Isabelle Marie SARTORIUS
Birth:  3 Nov 1852    Birmingham
Death: 27 Feb 1950  Birmingham
Spouse:           Elias HANCOCK
————————————————–
4 M:    Joseph Augustine SARTORIUS
Birth:  27 Aug 1854 77 Baggot Street, Birmingham
Death: Oct-Nov-Dec 1932    Birmingham
Spouse:           Emily BEDWORTH
Spouse:           Jane LATHWOOD
————————————————–
5 M:    Francis (Frank) SARTORIUS
Birth:  26 Jul 1856   Birmingham
Death: not known
————————————————–
6 M:    Charles (Julius Adrianus) SARTORIUS
Birth:  8 Jul 1858      Birmingham
Death: 28 Sep 1887  171 Scholefield Street, Duddeston
Spouse:           Berthe Jeanne CACHETTE
————————————————–
7 M:    Emile Louis SARTORIUS
Birth:  25 Mar 1860 Aston, Warwickshire
————————————————–
8 M:    Louis Edouard SARTORIUS
Birth:  23 Jan 1862  Birmingham
Death: 23 Jan 1862  Birmingham
Spouse:           Blanche Marguerite RAGOT
Spouse:           Berthe Victorine CAMUS
————————————————–
9 M:    Albert (Bernardus) SARTORIUS
Birth:  13 May 1864 Birmingham
Spouse:           Emma BLOOR
————————————————–
10 ?:    child SARTORIUS
Birth:  1867
Death: 1867
NB: Baptized at home, being in imminent danger of dying; baptism recorded at St. Joseph's Catholic Church, Nechell's Green; baptism record gives nothing other than the surname — no parents, no exact date — but it falls between records dated 5 Sep 1867 and 12 Sep 1867.
————————————————–
11 F:   Rosanna SARTORIUS
Birth:  13 May 1869 Birmingham
Death: 1878 Birmingham
with thanks to Robert Behra, a distant cousin, also descended from the Sartorius family, for his pioneering research and the copies of the original French documents. Also to Annie Cottet-du Moulin, descended from Louis' daughter, Julie.