Joseph Augustine SARTORIUS (1854-1932) (my great, great grandfather)
Joseph SARTORIUS was born at 77 Baggot Street, Birmingham, on 27 August 1854.
Like his father, he was also a glassblower and a Roman Catholic. A remarkable photograph of him seated by the glass furnace in the factory where he worked survives, and is in the Barwell family collection (descendants of Joseph and Emily's second daughter, Amy Isobel). Joseph is seated at the very far left of the picture. A piece of glass made by Joseph to celebrate his daughter Emily's wedding is in my own collection. See the page devoted to Frank Simpson.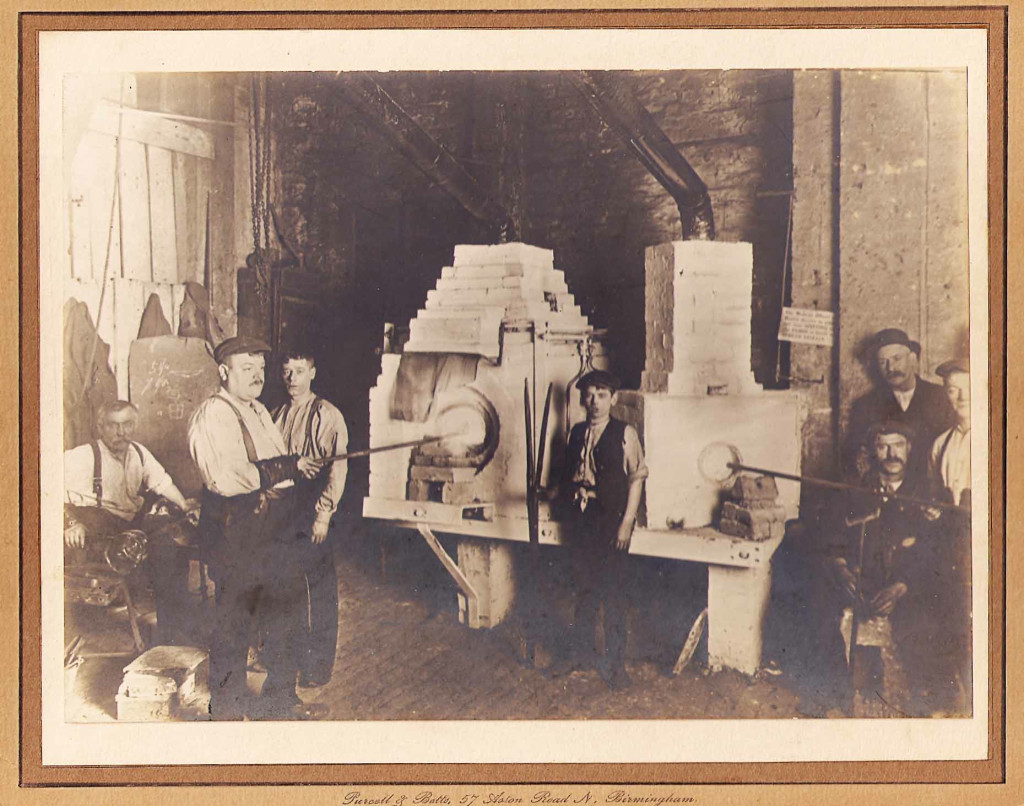 click to enlarge
Joseph married twice. On 5 April 1874, aged twenty, he married Emily Bedworth (1856-1885) at St. Saviour's church in Saltley. They were married for eleven years, before Emily died on 17 July 1885 from a combination of phthisis (also known as consumption or tuberculosis) and heart disease. According to her death certificate, she died at home, 120 Cato Street, Birmingham, with her husband present. She was 29 years old.
They had five children:
————————————————–
1 F:      Emily Maria SARTORIUS (my great grandmother)
Birth:  Mar 1875       Birmingham
Death:30 Mar 196966 Orchard Road, Erdington
Spouse:           Francis (Frank) Joseph SIMPSON (my great grandfather)
————————————————–
2 F:      Amy Isobel (Anna Isabella) SARTORIUS
Birth:  28 Sept 1876  Birmingham
————————————————–
3 M:    Joseph Ernest SARTORIUS
Birth:  Jun 1879        Birmingham
Death: Oct 1932
Spouse:           Thirza CROSHAW
————————————————–
4 F:      Beatrice Rose SARTORIUS
Birth:  Mar 1881       Birmingham
Death: Jul-Aug-Sep 1933     Birmingham
————————————————–
5 M:    John Lewis SARTORIUS
Birth:  1882   Birmingham
Death:1886   Birmingham
When Emily died in 1885, Joseph found himself a widower with 5 young children: the oldest, Emily (our great grandmother) was 10 years old, while the youngest was only 3. Joseph himself was just 31 years old.
Three years after Emily's death, Joseph married again. He married his second wife, Jane Lathwood (1869-1894), on 19 May 1888 at Nechell's, St Clements, Birmingham. It was Jane who was with Joseph's father, Louis, when he died in 1892. That same year, Joseph attended the Saltley Road Male Adult School, where he was awarded first prize for early attendance (he was 38 years old at the time). Joseph gave the book to his grandson, Harry (my grandfather) on his 20th birthday in 1924. The book still survives, and is in my own collection.
Joseph and Jane had six children:
————————————————–
1 M:                      Louis Eduard SARTORIUS
Birth:                    22 Mar 1889       Birmingham
————————————————–
2 M:                      Albert Alphonso SARTORIUS
Birth:                    Mar 1890             Birmingham
Spouse:                 Mary O'NEIL
————————————————–
3 M:                      Edouard SARTORIUS
Birth:                    31 Mar 1892       Birmingham
Death:                   Oct-Nov-Dec 1968          Birmingham
————————————————–
4 M:                      Louis Augustus SARTORIUS
Birth:                    10 Dec 1893        Birmingham
Death:                   Jan-Feb-Mar 1962
Spouse:                 Dorothy M E HICKLING
————————————————–
5 M:                      Joseph Augustus SARTORIUS
Birth:                    19 Feb 1900        Birmingham
————————————————–
6 F:                        Rosalie Cecilia SARTORIUS
Birth:                    7 Mar 1903         Birmingham
Death:                   May 1992            Birmingham