Ernest Walter THORNE was born on Sunday 24 March 1907 in Weston-super-Mare, the son of Frederick James Thorne (1882-1923) and Mary Ann Sydenham (1882-1955). He had 4 brothers (Frederick, George, Albert and Frank) and a sister, Doris. See the page dedicated to Frederick Thorne, his father, for more information about his brothers and sister. He was 16 years old when his father died of tuberculosis.
On 16 November 1935, he married Florence Hughes in the Parish Church in Mountain Ash, Wales. He was 28 years old and working as a garage hand at the time. When he married, he was living at 40 George Street, the parental home.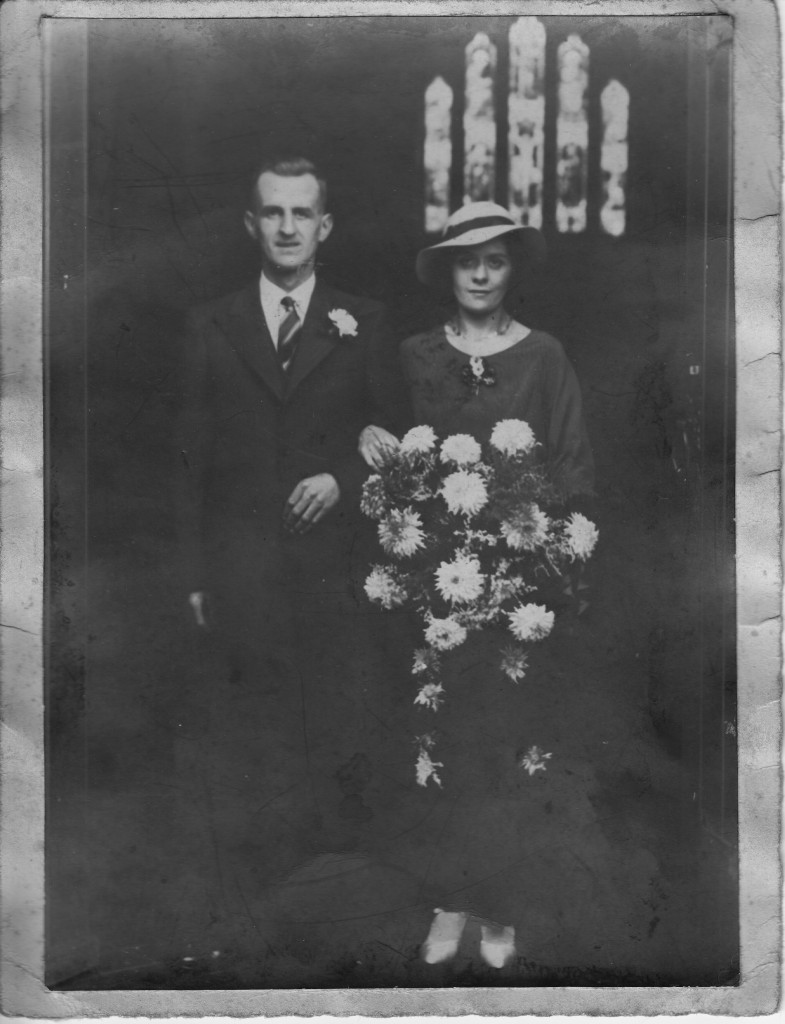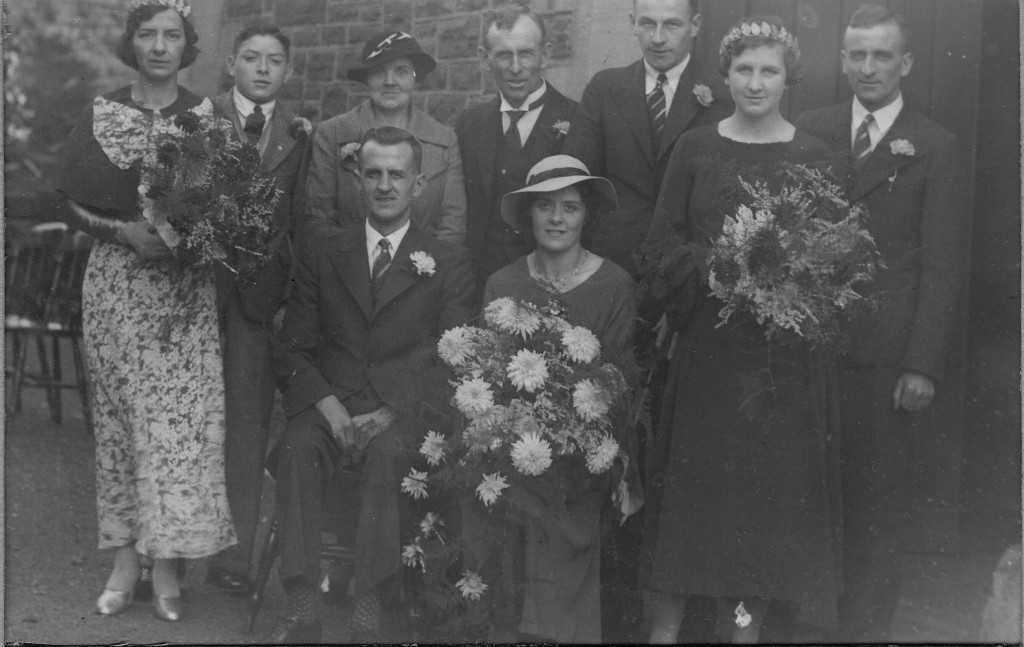 Ernest and Florence on their wedding day. Click to enlarge.
Two years later, on 9 September 1937, their only daughter Cynthia was born (my mother). By this time, he was working as a motor omnibus cleaner and living at 14 Longton Grove Road. Later, they moved to 18 Churchill Road, the house where my mother grew up.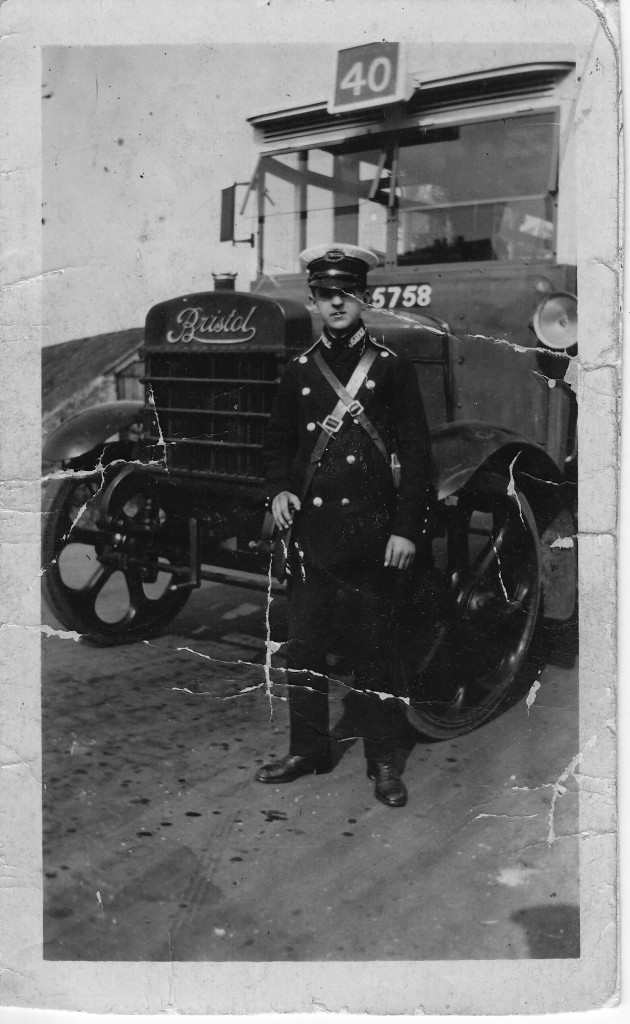 An early photograph of Ernest in his Bristol Omnibus Co. livery. Click to enlarge.
Ernest and Florence cared for Barbara Hughes (Florence's sister) until her death (she lived in a bedroom at the front of the house, which she rarely left). Later, they cared for Ernest Sydenham, Ernest's uncle.
During the Second World War, Ernest served in the Royal Air Force from 25 March 1941 until 13 December 1945. His number was 1139699 and he was a corporal in the postal division. Described as being of 'very good character' and of 'superior' proficiency in his work, he was awarded the defence medal. His Group Captain wrote: 'Has always carried out his duties in an exemplary manner, both as a tradesman and an organiser. He is loyal and conscientious. Is returning to his previous job with Bristol Tramways Co.'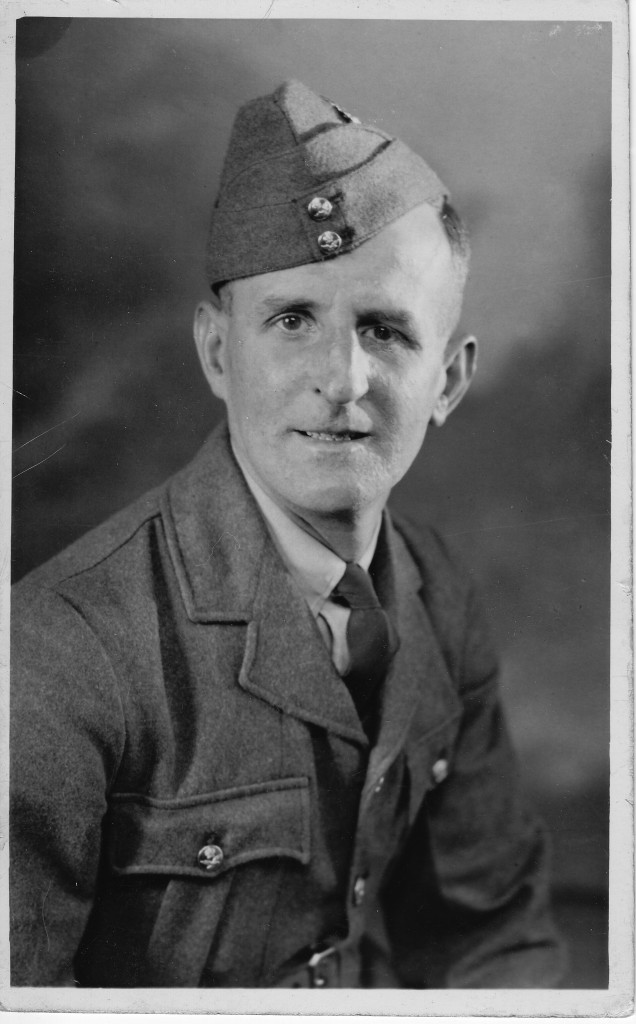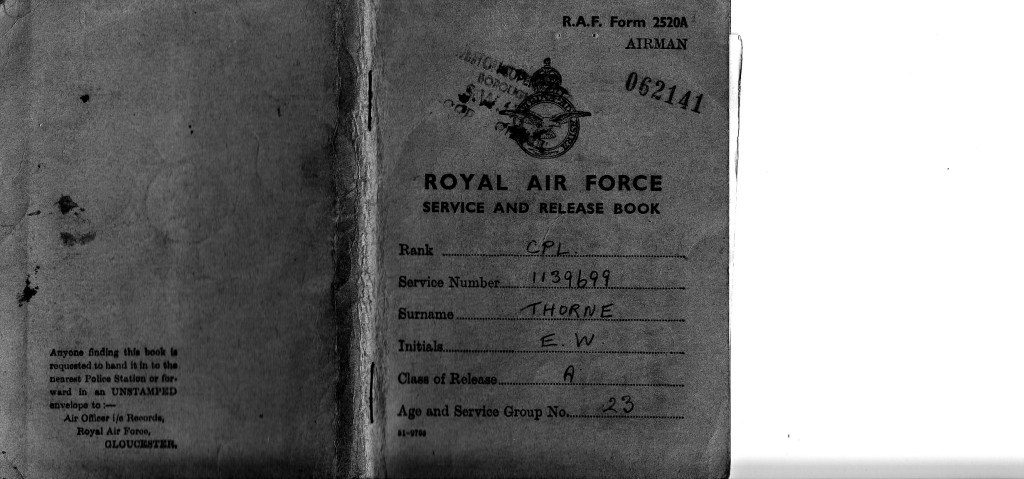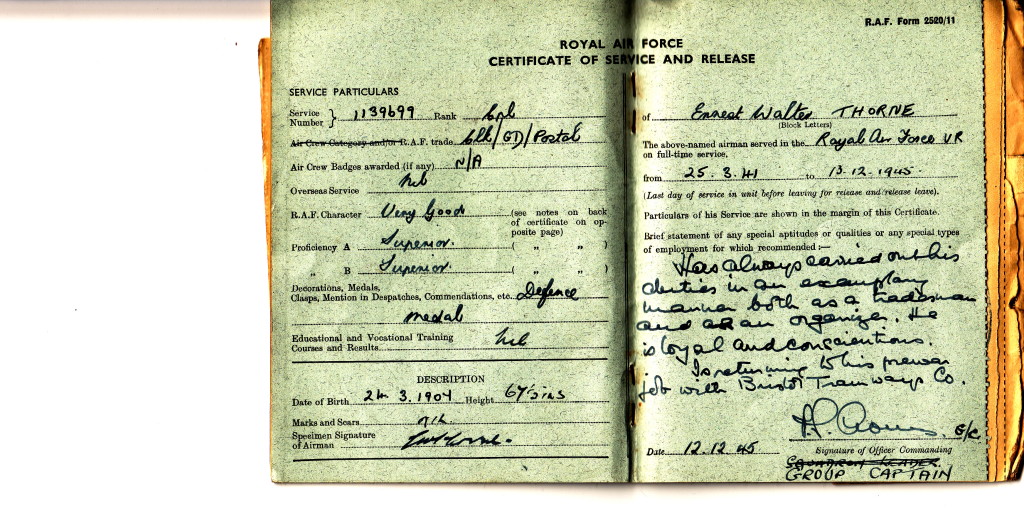 Ernest served in the Royal Air Force during the Second World War. Seen here in uniform, and copies of his service record book. Click to enlarge.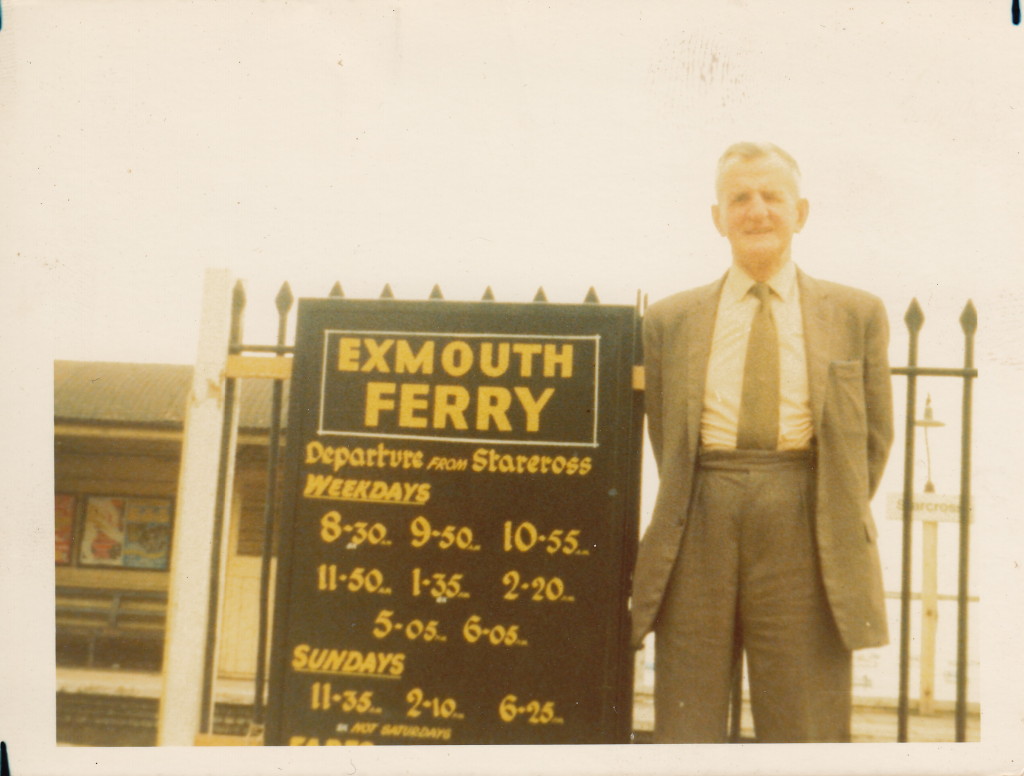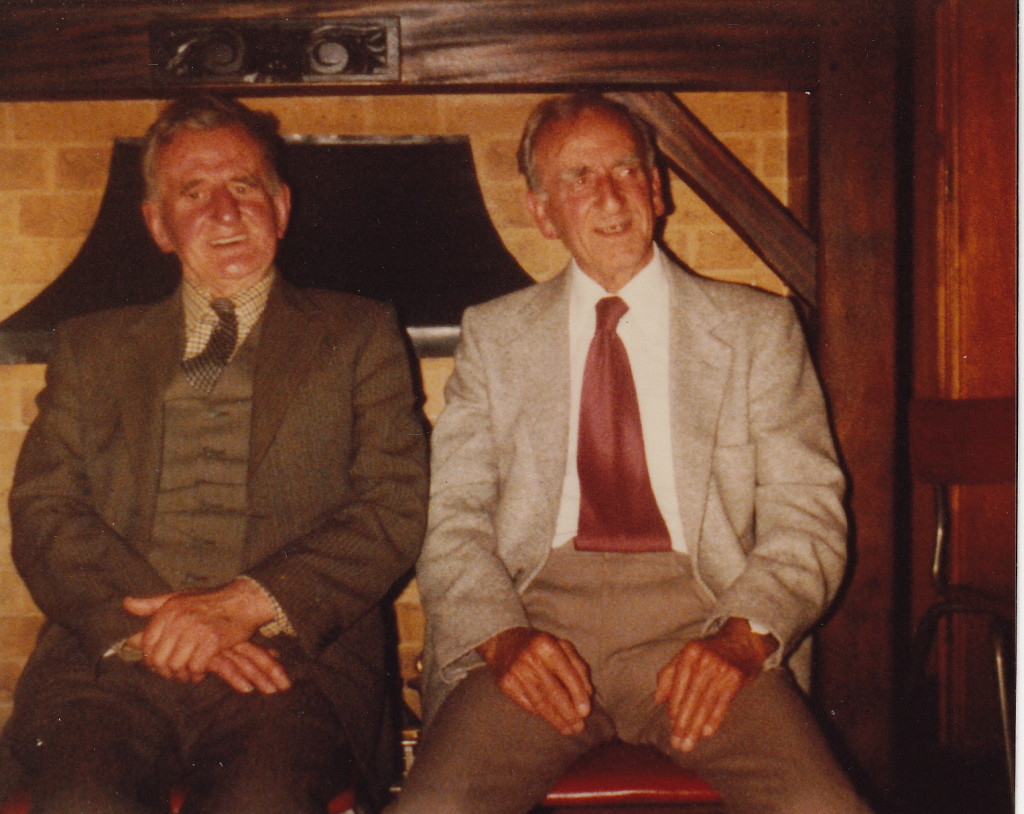 Ernest in later life and, in the second photograph, on the left of his brother George (see page dedicated to their father, Frederick James Thorne, for more information and photographs of George). Click to enlarge.
Ernest lost his wife of 36 years on 6 July 1972. Florence died in Bristol Royal Infirmary as a result of post-operative complications following a hip replacement. Ernest died of broncho pneumonia and other complications in the Grasscroft nursing home, 40 Elmhurst Rd on 24 October 1985. He was 78 years old.
Ernest and Florence are buried together in the main cemetery in Weston-super-Mare.
Ernest and Florence had one daughter:
————————————————–
1 F:                        Cynthia THORNE (my mother)
Birth:                      9 Sept 1937              14 Longton Grove Road, Weston-super-Mare
Spouse:                 John Graham SIMPSON (my father)