The story of the Simpson family line can be traced back to 1841, with the birth of Henry Simpson (my great, great grandfather).
Henry SIMPSON was born on 3 August 1841 at 44 Hospital Street.  He trained as a master baker and confectioner, a profession he practised his entire life. On 27 Jul 1864, when he was twenty-three, he married Mary Ann FIELD, daughter of James FIELD, in St Peter's Chapel, Birmingham. Mary, who was born in about 1837, was listed in the 1861 census as being a steel pen maker. A few years later, she married Henry.  For most of their married life, they lived at different addresses in Henry Street, Duddleston, Birmingham (variously nos. 67, 143, 47, 111 and 113 Henry Street). Mary Ann died at home at 111 Henry Street, Birmingham, on 21 Nov 1905 from cardiac weakness; she was 63. Henry outlived her by thirty years, dying of myocardial degeneration, aged 94, at 54 Raymond Road, Saltley, on 16 Nov 1935. They were Roman Catholics and are buried together in St Joseph's churchyard, Netchells.
Henry and Mary had three children.
————————————————–
1 M:    Thomas Henry SIMPSON
Birth:    19 Sep 1867    67 Henry Street, Birmingham
Spouse:    Alice Marie Josephine GRAHAM
————————————————–
2 M:    Francis Joseph SIMPSON (my great grandfather)
Birth:    4 Oct 1875    47 Henry Street,Duddleston
Death:    27 Mar 1966    Good Hope Hospital, Birmingham
Spouse:    Emily Maria SARTORIUS (my great grandmother)
————————————————–
3 F:    Kate (Catherine) SIMPSON
Birth:    abt 1878    Birmingham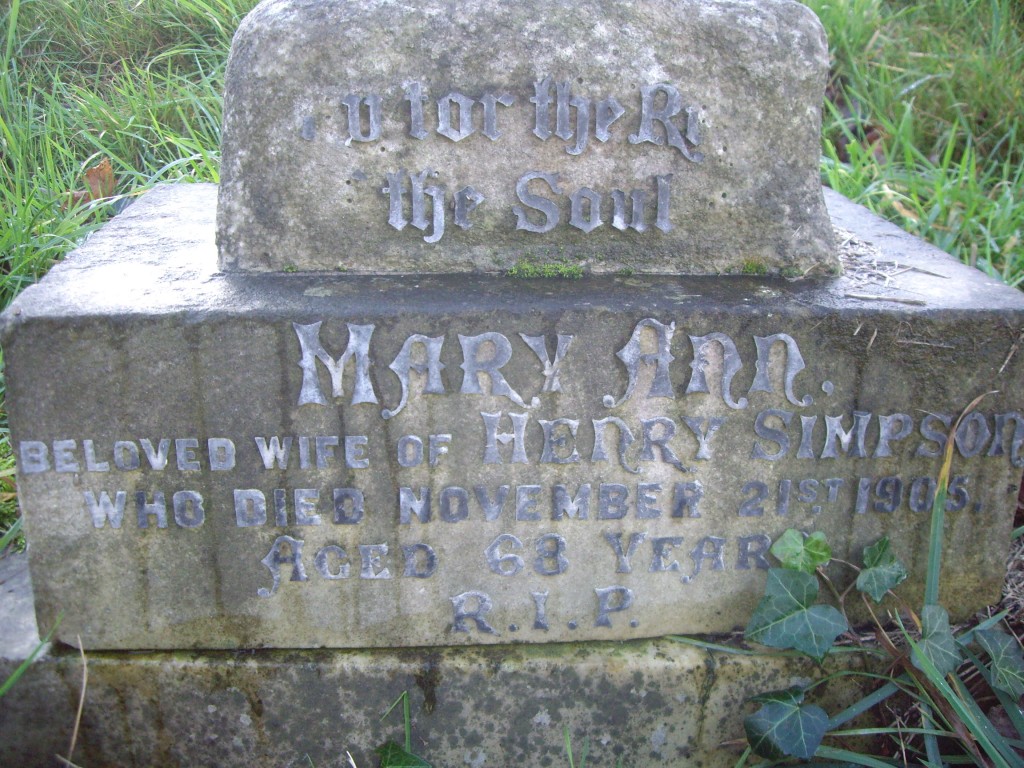 Henry and Mary Ann Simpson are buried together in the cemetery of St Joseph's church, Nechells. The grave survives but is damaged. This is the inscription:
Pray for the Repose of the Soul of Mary Ann beloved wife of
Henry Simpson who died November 21st 1905 aged 63 years.
Henry Simpson who died Nov 16th 1935 aged 94 years.